Description
Do you suffer from an aversion to wires? Are you hampered by budget constraints? The twin of the popular Site Alert is this neat radio-link buddy – he could be the answer to your problems.
The Site Alert RF comes with a host of important features and boasts an open air range of approximately 1km. Each system can have up to 30 subsidiary units connected to a Master unit. And, with 8 different channels, you have plenty of scope.
The whole family are famous for their silent chat. Uniquely, the RF wireless fire alarm system includes a silent automatic disconnection warning, meaning that should a unit become disconnected, the Master unit can immediately identify when one of his buddies is in trouble. This enables you to deal with the situation quickly and easily, always ensuring site safety.
The distinctive weatherproof design is suitable for indoor and outdoor locations. They are solely powered by off-the-shelf alkaline batteries, so ongoing maintenance is easy and economical.
Features and specification
VISUAL WARNING High intensity LED red flashing beacon fitted as standard. Ideal for noisy areas.
NOISY 100dB at 1 metre.
WEATHER PROOF Push on/push off switch operation.
BATTERY POWERED​​​​​​​ Alkaline – cheap and easy to replace.
BATTERY TEST​​​​​​​ Built-in low battery warning.
WIRELESS LINKING​​​​​​​ Up to 30 units can be linked – no trailing wires.
FLEXIBILITY​​​​​​​ Open air range of approx. 1km and 8 channels – ideal for multiple building projects.
NO CONTROL PANEL REQUIRED​​​​​​​ Simple installation and set up – very easy to use.
CONTINUOUS FAULT MONITORING LED illuminates if any unit becomes disconnected.
Configurations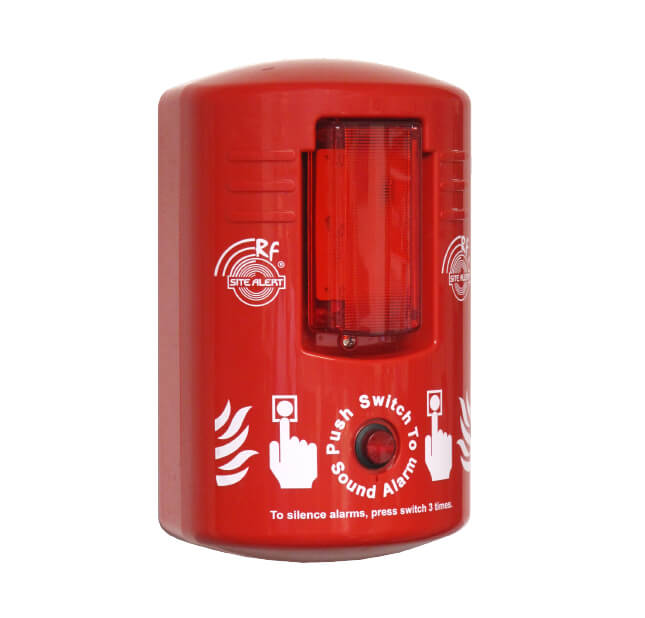 Site Alert RF master unit SA02M
A Master unit is required for each Site Alert RF system. It will monitor all connected Subsidiary units. Flashing LEDs in the switch give a warning if any Subsidiary unit becomes disconnected or if batteries are low.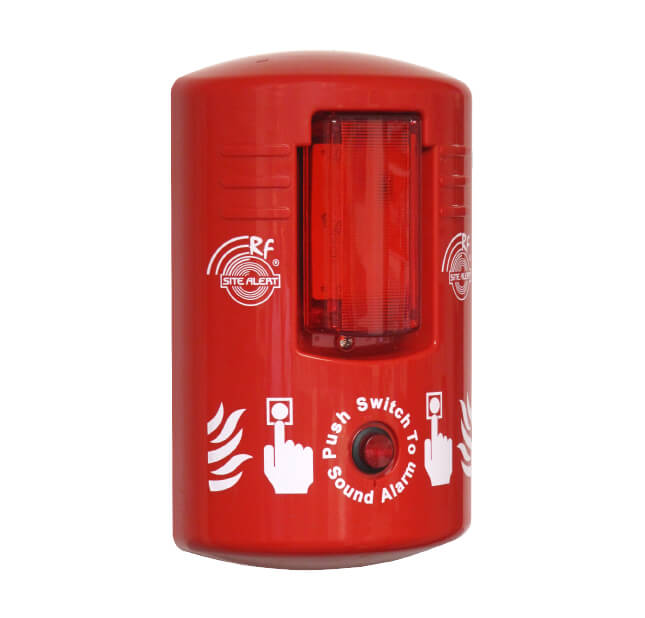 Site Alert RF subsidiary unit SA02S
Up to 30 Subsidiary Units connect directly to the Master unit. The alarm can be silenced at any unit by pressing the button 3 times in succession. The LED in the switch flashes if the unit becomes disconnected or if the batteries get low.