At Howler, we put life safety first. We create hard-wearing, effective and reliable fire safety solutions based on real challenges experienced by real people.
The development of the ProLink® fire alarm system signifies another huge step in our dedication to protecting buildings, people and projects. Find out more about the ultimate professional fire alarm system below.
Creating the ProLink® — TOP TEN FEATURES
Howler has been on a journey of continuous product development since we designed the world's first battery-operated site alarm over 20 years ago.
All Howler alarms are designed to work in real-life situations. Our team challenged themselves to design a new temporary fire alarm system that would revolutionise workers' lives on construction sites everywhere.
We assembled a diverse team with specialist knowledge and combined years of experience with customer suggestions and needs.
Users consistently stated they wanted the following from fire safety solutions:
Speed of set-up
Ease of use
Reliability
Durability
Good battery life
Flexibility & compatibility
Self-monitoring
Straightforward maintenance
Visibility
Compliance
All of these features (and more) make up the powerful design and functionality of the ProLink®. It's the fire alarm designed by the people FOR the people (with a bit of help from some radio gurus!).
What makes ProLink® unique?
The ProLink® is a new-generation fire and warning system that's simple, compliant and sustainable.
ProLink® is a completely unique, battery-operated fire alarm system that can be rapidly deployed in situations where a hard-wired fire alarm system is not appropriate. Although this fire alarm system was primarily designed for construction site use, it can be used in many other environments, including outdoor events, exhibitions and workplaces, e.g. landfill sites, campsites, marinas and even ships undergoing refurbishment.
It can also be installed as a temporary measure when the hard-wired fire alarm system in a building is being replaced or rewired.
The radio-linked fire alarm system utilises a flexible network hierarchy to monitor every station continuously at incredibly low power. So, even though the stations are constantly chatting away to each other, the bespoke dual-battery pack is good for three years of continuous use.
Why industry professionals choose ProLink®
COMPLIANT. SIMPLE. SUSTAINABLE. Three words that define ProLink®.
ProLink® meets the requirements of BS EN 54 and BS 5839-1, including a 400-second loss of communication warning and two independent power supplies.
The alarm system and setup are incredibly simple for convenience on site. The unique slider backplate and user-friendly indicator station make ProLink® a completely user-friendly system focused on reducing labour time and improving efficiency.
The 3-year battery warranty and ultra-tough construction increase the lifetime of the ProLink®, and our reprocessing scheme minimises environmental impact. We don't just make solutions for now. Howler makes solutions for the future.
By choosing ProLink®, you're choosing a fire safety solution you can trust to work when it matters most. However, you're also choosing a fire alarm system that cuts out the hassle and issues associated with many other fire alarm systems on the market, e.g. short battery life, hard to install, unresponsive.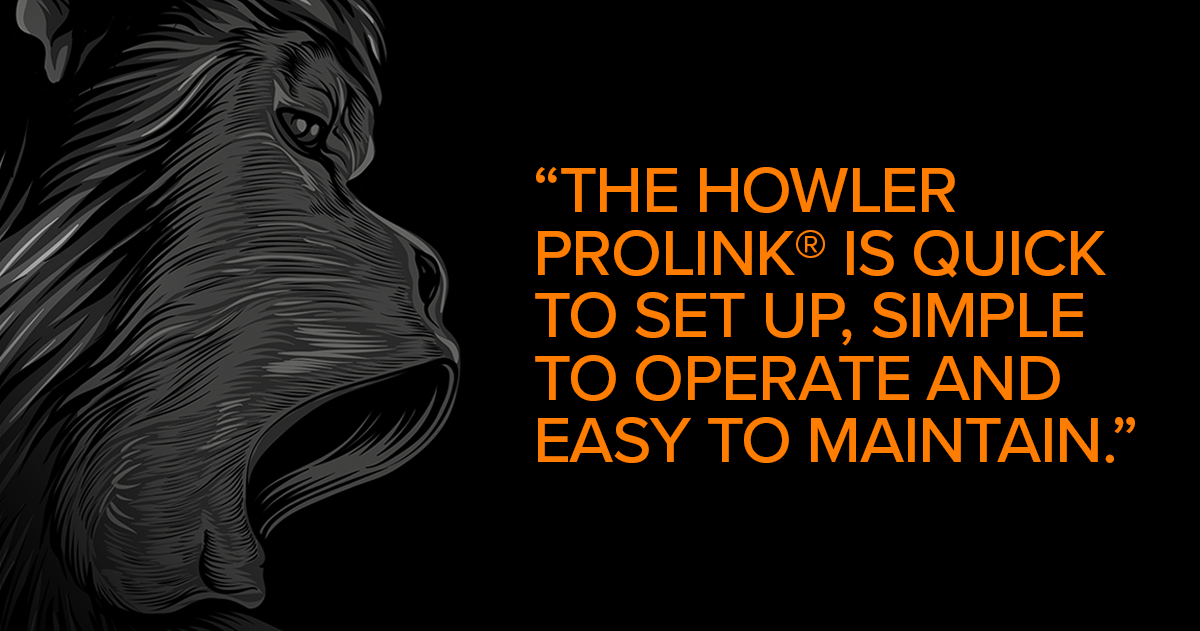 The specifications and features of ProLink®
All construction sites and locations are different, so you need adaptable fire safety solutions and systems. The ProLink® range is split into multiple variations, including an indicator station, alert station, automatic detection system and a relay station.
Indicator station
Large LCD display for good visibility
One-push 'hot keys' for all the most important commands
Interface PCB for connecting to other systems and devices such as an auto-dialler
Continual fault monitoring gives a warning within 400 seconds if any station loses connection with the system
3-year battery pack with two independent power sources
Class V0 flame-retardant ABS plastic enclosure
Tough ABS plastic casing, ergonomically designed for maximum robustness
Howler alert system
Illuminated buttons and LED indicators make the product easy to see. Symbols and colours make the station visible at range and in low light
Optional anti-tamper switch cover triggers a local alarm when lifted
Key components are internal to reduce the risk of damage/vandalism
Rear access battery compartment. 3-year battery pack with two independent power sources
Tough ABS plastic casing makes the product robust — additional flame-retardant Class V0 enclosure
The optional backplate makes it easy to install. Intelligent design makes it easy to maintain
100dBA sounder with optional flashing/visual indicators
Automatic detection
Ceiling-mounted heat and smoke detectors offer early warning of fire
Patented dust chamber in the smoke detector reduces false alarms
Optional base sounder with volume adjustment
Optional high-intensity visual flashing LED indicators
Tough ABS plastic casing
White ABS reduces the visual impact in office environments
Optional sliding backplate makes installation quick and simple
Tamper switch on rear alerts indicator station if the device is messed with
3-year battery pack with two independent power sources
Relay station
Highly versatile relay station enables you to interface with other systems
Suitable for interfacing with:

– Autodiallers for out-of-hours alerts

– Turnstiles for automatic release in an emergency

– Other fire alarm systems

– Access control systems for automatic release in an emergency
Choose ProLink® for life safety confidence
Put life safety first and stay compliant on site with ProLink®. Talk to the Howler team today for more information on 0330 7000 777 or email [email protected].